Dads Make a Difference celebrated its 15th ANNIVERSARY with a CELEBRATION and FUNDRAISING EVENT on JUNE 21, 2008.
Event included: Performance by T. Mychael Rambo, Silent Auction, Caricature artists Pete and Dian Wagner, Performance by Temporary Stringband (old-time bluegrass), and Performance by Lelalelei O Samoa (Polynesian dancers).
2008 Event Supported by:


Pine-Shelter Registered Holsteins
Dave and Madge Alberts, Pine Island, MN
Our THANKS to the following 2008 event silent auction donors...
SERVICES - Arthur Murray Dance Studio (St Paul), Haskell's Bacchus MN Wine Society, Estetica Salon & Spa
ART - Marcus Studio, Vintage Art Creations, Capitol View Creations, Martha's Boards
STORES/PRODUCTS - Office Max, Best Buy, Bibelot, Smart Women Company, Pulp Fashion, The BEatles Unseen Archives book,
RESTAURANTS / FOOD - Wuollet Bakery, Dixie's, Saji Ya, Cafe Latte, McCormick & Schmick's, Trader Joe's, Supreme Bean, Sunsets, Dunn Brothers (Grand Ave), Tobie's (Hinckley)
ENTERTAINMENT / SPORTS - Park Tavern bowling party, Acme Comedy Company, MN Renaissance Festival, Valleyfair, Mixed Blood Theatre, Mall of America, Underwater Adventures, Grand Rios water park
SPORTS MEMORABILIA - MN Twins, MN Wild

The Dads Make a Difference Benefit Event was held on Tuesday, July 31, 2007
followed by the Minnesota Twins vs. Kansas City Royals (Twins won!)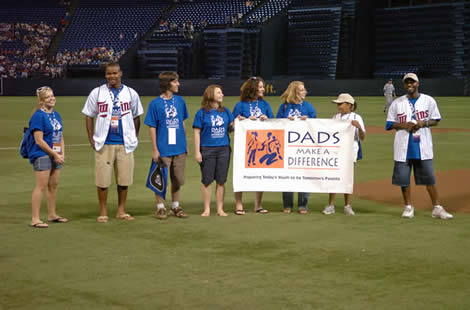 We enjoyed a delicious buffet dinner, attendees got super deals at the silent auction, there was great live music by Denny & the Dawgs,
T. Mychael Rambo sang the DMAD anthem, there were giveaways, FUN, and more!
Twins legend Tony Oliva made a special appearance, signed autographs, and posed for photos with attendees. Some were also lucky enough to catch a glimpse of Kent Hrbek and Paul Molitor in the parking lot!
Our THANKS to the following 2007 event silent auction donors.
SERVICES - Arthur Murray Dance, Dale Studios portrait photography, Downtowner Car Wash, Valvoline Oil Change, Jazzercise, Tom Conlon Photography, Twin City Attorneys, College Nannies & Tutors, Jeffry Jeanetta-Wark for hypnotherapy, Spalon Montage, Signature Salon & Spa, Estetica Salon & Spa, Kindercare
STORES - Target, Office Max, Holiday Stationstores, Daughters & Sons, Best Buy, Bibelot, Smart Women Company, Westwood Sports, MN Wild, Rose Allen jewelry
RESTAURANTS / FOOD - Wuollet Bakery, Dixie's, Saji Ya, Cafe Latte, McCormick & Schmick's, BT Doyle's Rib Joint, Hopscotch Grill, The St. Paul Grille, Trader Joe's, Teavana, Olympus Bar & Grill, Kowalski's, Supreme Bean, Cossetta's, Potbelly Sandwich Works, Sunsets, Noodles & Company, Dunn Brothers, Big Apple Bagels, Famous Dave's
ENTERTAINMENT / SPORTS - Zurah Shrine Circus, Fun O Rama / Cheap Skate, Minnesota Thunder, GameWorks, Acme Comedy Company, MN Renaissance Festival, Valleyfair, Mixed Blood Theatre, Science Museum of MN, Paradise Charter Cruises / Mpls Queen, Gondola Romantica Romancing the Lakes, St Paul Saints, MN Twins tickets, Gopher football tickets, The Park at MOA, MN Timberwolves/Lynx, Comedy Sportz, Channhassen Dinner Theatres, The Depot
TWINS MEMORABILIA - Paul Molitor autographed ball (from the Workman's), Kent Hrbek autographed ball, Jason Bartlett autographed bat
Contact Information for Event Questions
Jan Hayne, DMAD Executive Director, 651-222-1622 or email: jan "at" dadsmakeadifference.org
161 Saint Anthony Avenue, Suite 840, Saint Paul, MN 55103